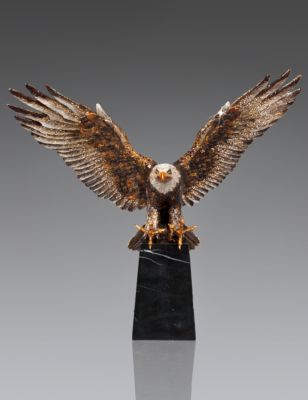 Washington Grand Eagle Figurine - Natural
Capturing the drama of the eagle in flight, his wings fully extended, begins with our master model maker carving the Washington Grand Eagle Figurine in clay. Next, molds are made, and seven separate pewter castings are poured and finished in 18K gold. The New York in New York will spend over two days applying layers of enamel to each eagle before 2000 crystals are hand-set. In total, eight artisans will spend three weeks creating each Grand Eagle Figurine. Carved black marble plinth. Limited to an edition of 350.
Dimensions: 21.5" W 24" H 7" D
Materials: Cast pewter with an 18K matte gold and light brown antique finish, hand-enameled and hand-set with Swarovski crystals. Handcrafted in New York and Rhode Island.
Product # 05 SDH1790 280