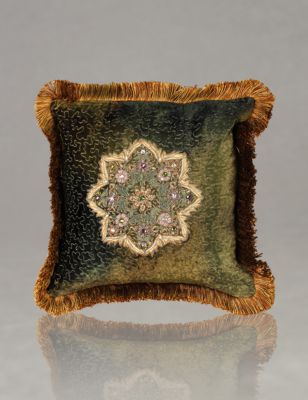 Medallion 14" x 14" Pillow - Olivine
When walking through antique fairs, Jay Strongwater is captivated by beautiful embroidered patterns found on antique fabrics. For his first pillow and throw collection, he wanted each piece to be a unique collage of hand-painted velvet, silk embroidery, sparkling faceted beads, and Swarovski® crystals. Floral patterns and stone details in painterly shades of olivine, amber, lilac, and rose are complemented with a contrasting embroidered velvet back. Pillows are lined in signature fuchsia satin and closed with a dragonfly zipper pull.
Dimensions: 14" Sq.
Materials: Velvet, hand-painted in California. Embroidered and hand-set with Swarovski crystals and faceted stones. Silk collages. Imported.
Product # 07 ST4023 231
Please note that stock availability of sale items may be limited.