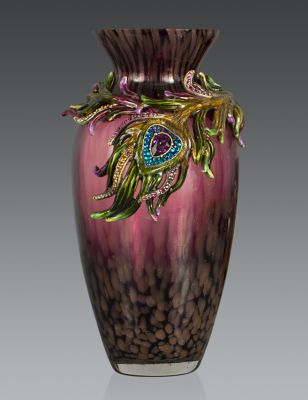 Alina Peacock Feather Vase - Peacock
Surprise and delight with a Jay Strongwater gift. The Alina Peacock Feather Vase features a hand-cast pewter "necklace" finished in antique brass, hand-painted in enamels, and set with crystals and stones, on amethyst-colored glass speckled with gold frit.
Dimensions: 4" Dia. 8" H
Materials: Glass base; cast pewter embellishment with a brass ox finish, hand-enameled and hand-set with Swarovski crystals in New York and Rhode Island.
Product # 10 SDH2321 408