Holy Family - Gold
Details
http://www.jaystrongwater.com/SDH1880-292.html
Additional Information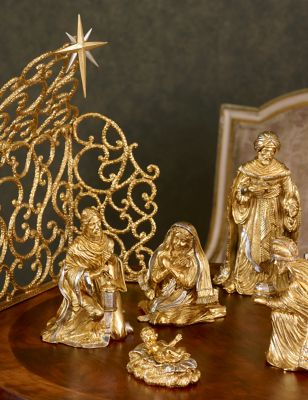 The Details
Dimensions:
Mary: 3.75" w, 4.25" h, 3.75" d; Baby Jesus: 2.25" w, 1.5" h, 3.25" d; Joseph:3.75" w, 5.5" h, 3.75" d
Materials:
Cast pewter with an 18K gold and light brown antique finish with high-polishedareas and silver-tone highlights. Handcrafted in New York and Rhode Island.
Care and Use:
Learn more about care and use for all products.